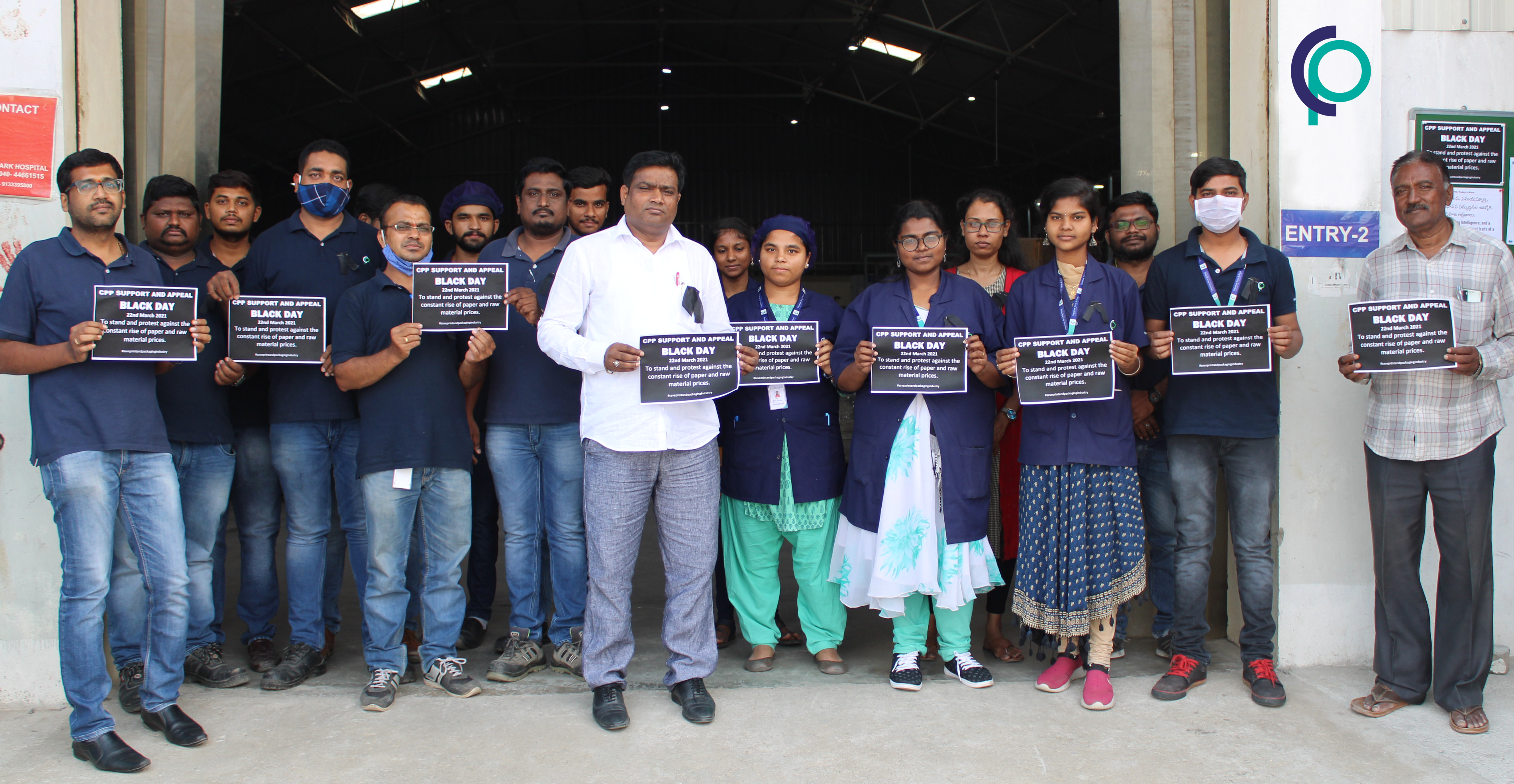 The CPP expressed solidarity with Black Day announced by the All India Federation of Master Printers regarding the price hike. On the occasion, CPP Group Managing Director Kondaiah Chowdary said that the packaging market has just started to improve after the lockdown due to COVID-19. Meanwhile, printing and packaging manufacturers are facing business losses due to the sharp rise in the prices of raw materials such as paper, plates, gum, films, and ink.
He said the printing and packaging industry was facing a crisis as raw material prices rose by 60 to 95% and the business was facing instability. In addition to the increase in paper prices, all other input costs such as manpower, laminating film, gum, ink, plates, freight, and other overheads have also increased by 65-80% over the past few years.
"Not only are prices rising abnormally; even at this increased price, the paper and other raw materials are not available. It seems that this unprecedented shortage is only for making more money by raising rates. Otherwise, there is no reason for this kind of increase at this time," Chowdary said.
In addition, paper mills and other raw material manufacturers are raising rates immediately without giving any buffer time or notice but we are required to deliver the order to the customer at the quoted rate calculated at the time of receiving orders. Therefore, we are suffering huge losses. He appealed to the owners of paper mills and other raw material manufacturers to inform the suppliers at least a month in advance if there is any such increase.
For the printing and packaging companies, this is a bigger blow than COVID-19. The rise in prices of paper and other raw materials has been a major obstacle, but the industry is losing momentum due to customers' unwillingness to bear the cost of printing and manufacturing packaging material (folding cartons, corrugated boxes). This problem has made the survival of many small printers questionable.
The Paper Board and its affiliates are subject to the basic requirements, so we are requesting the government to take the required strategic implementations for the printing and packaging industry, and giving the print and packaging segment a holistic industry status, and protecting the industry by granting industry status, thereby helping to improve the accuracy and rationality of rates. We hope the government will take note of this and take strict measures to stop the shortage of stacking and artificially created and persuaded the mills to give notice before the price hike, "Chowdary said.
-----------------------***-----------------------
Price movement between October 2020 to now*
1 Price of recycled paper/board increased by Rs 10/50 per kg in absolute terms plus taxes and transportation (further Rs 8-10 per kg)
2 Prices of FBB/SBS/VAP boards increased by Rs 5/kg in absolute terms plus taxes and transportation (further Rs 5-6 per kg)
3 Kraft paper/board prices increased by Rs 14/kg in absolute terms plus taxes and transportation (same is increasing per day basis Rs 1-2)
4 Increase in inks, varnish, and pressroom chemicals has increased by 7.5-10%
5 Overall hike in transportation/freight costs due to higher diesel and petrol prices by 25%
6 Added expenses for SOP due to pandemic control at factories
7 Art card/art paper/chromo paper/superfine paper/ maplitho has an increase in between the range of Rs 5 to 10
8 Increase in lamination film by Rs 45/kg – and adhesives by Rs 42/kg
9 Raw materials, such as UV resins, additives, and pigments, are reaching cost peaks
(*Data courtesy: Print Week, The Bombay Master Printers Association, and The Indore Master Printers Association)
-Bureau Chief: Kacharagadla | CPP Insights